List of products by brand YSS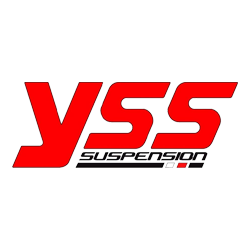 YSS is the largest producer of aftermarket motorcycle shock absorbers in the world, and its range is constantly expanding. Since its establishment in 1983, YSS has become renowned for its use of high quality components and cutting edge technology. Every part that goes into a YSS shock is designed, manufactured and tested in house at the YSS factory in Thailand.
Engineered to the ideal specification for each bike, YSS shocks come ready to install straight out of the box, without the need for further adjustments.
Additional features are available depending on the bike or scooter; threaded spring pre-load adjustment, high and low speed compression adjustment and rebound adjustment are just a few that YSS shocks have to offer, enabling riders to tailor their shocks to their personal requirements.
A strict testing process is used at the YSS factory to check that the shocks meet OE specifications, with each one being specially heat treated for extra durability and strength.